Dining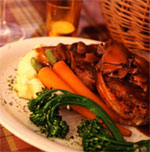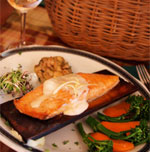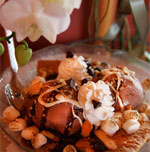 Whatever your "thing" is; skiing, white water, hiking, fishing, kayacking or a beer after a hard day at work, Basil & Wick's is "on the way."
From the first time you walk through our doors you know you're in for a great dining experience. Our interior is a blend of warm traditional Adirondack, clean and open with a few retro surprises. Placed throughout the restaurant are mural vignettes depicting North Creek area activities and real people back in "the day" of the original Basil & Wick's. If you frequented the area during this time, check to see if you are in a mural. We will be adding murals from time to time. You never know when you will be on our wall.
To see the murals click here .
Let's Eat!
Basil and Wick's offers a creative selection of Adirondack Comfort Foods and Traditional American Cuisine. From Wild Game Pot Pie, Duck a la High Peaks, Jug Handle Rib Eye to Lamb Osso Bucco, Pecan-Crusted Rainbow Trout and our juicy 8 oz. Basil Burger. Our selections are geared to the outdoors person who just spent a day on the trails, or the water, and is ready to sit down to some real good food.
In addition, we offer over 35 wine selections and a choice of over 30 beers as well as local handcrafted ales.
We also have a delightful light menu, salad and vegetarian selection as well as a children's menu. Since many of our customers are active folks, we made a dessert selection that is high in carbs, calories and kudos! What the heck, you'll burn it off tomorrow!
We always try to honor special food requests or dietary restrictions. Please tell you waiter or waitress about your special needs.

Basil and Wick's can easily accommodate large
parties by reservation and is available for
special events and meetings. We can
accommodate 65 in our main dining
area and 75 in the Lodge area